An Early Learning Education
of Proven Play-Based Academics
"First Time Alone"  Enrichment for ages 2 to 3 years / "On My Own" Enrichment for ages 3 to 5 years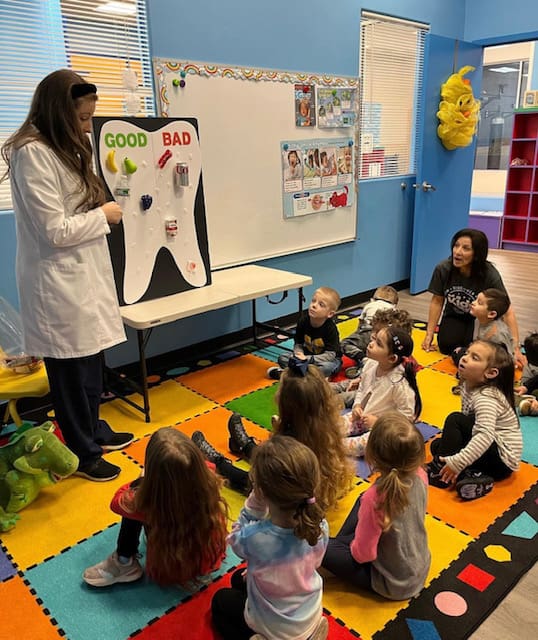 The Kids Club SI offers a private, high-quality education at an affordable price taught by teachers who are early childhood development experts and have been educating and nurturing for over 30 years.
The Kids Club SI proudly offers two enriched drop-off readiness programs that set high standards in early childhood education:
"First Time Alone" Readiness Enrichment, ages 2 to 3 years
"On My Own" Readiness Enrichment,  ages 3 to 5 years
Both are independent programs without the presence of a parent in the classroom.
For existing families of The Kids Club SI, you will recognize our teachers as the same ones who already love your child from parent-child enrichment classes and are trusted by you. We also gladly enroll new students from families who have yet to become part of our growing community.
Where is The Kids Club SI Located?
The Kids Club Sl is centrally located in the Bay Terrace neighborhood of Staten Island, NY in Riviera Plaza. The physical address is:
The Kids Club SI
3295 Amboy Road
Staten Island, New York 10306
The facility is a private early learning center and is not part of a larger school. It is a short drive from anywhere on the island. From North Shore to South Shore, students come from all over Staten Island to receive the best foundation in their early academic careers.
Important note for parents: There is a drive-thru Dunkin Donuts in the same plaza, which we understand is sometimes much needed after dropping off your child to school.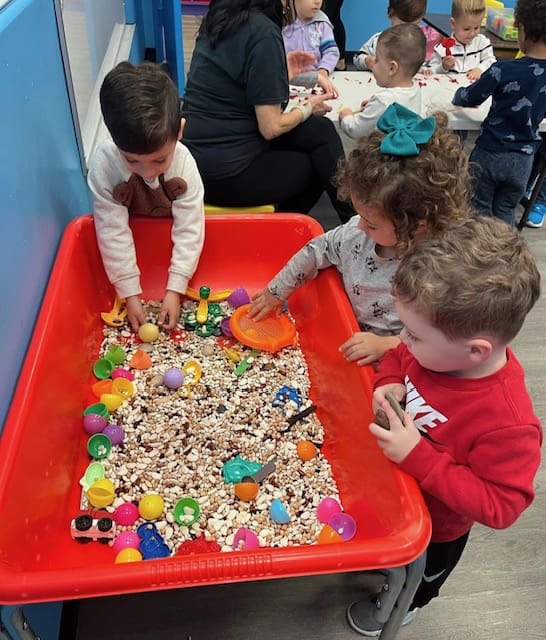 The Kids Club SI is enriched by a diverse and inclusive community. Together we work tirelessly to implement a program unlike anything else in hopes of building a better tomorrow for the children of today. We keep the following beliefs at the forefront of what we do:
Your child is the center of the school experience
Parents are an active partner in their child's education
Our teachers are highly invested in successful outcomes for every student
"First Time Alone" Readiness Enrichment Program, Ages 2 to 3
"First Time Alone" is an introductory drop-off readiness program for ages 2 to 3 at The Kids Club SI. It is one of the only private readiness enrichment programs on Staten Island taught by expert teachers whose training is focused on general early education specifically and the learning through play concept as the primary teaching methodology, as this is the scientifically proven way that children of this age range best learn and retain core information.

Existing parents from The Kids Club SI feel most comfortable dropping off their precious children here to teachers who already know, love and cherish them. However, our program is welcoming of all families looking for a gentle transition into a school environment.

While our focus is on every child's smooth adjustment, our teachers recognize how big of a step this is for parents as well and are here to help ease any worries and big feelings along the way!
 "On My Own" Readiness Enrichment Program, Ages 3 to 5
"On My Own" is a drop-off readiness program for ages 3 to 5 at The Kids Club SI. It is a private program and is not part of UPK, which opens up increased possibilities for educational experiences since what we teach is not mandated or restricted. Rest assured, we still cover all topics included in the city's program and much more, all at a greater and accelerated level in order to best set up your child for a lifetime of learning success.

Additionally, our proprietary curriculum and instruction methods allow us to focus on the individual development of the whole child and lay down a personalized educational foundation unique to each child. Your child is not just another number, but forever part of our family and we are personally invested in their academic growth.

Our students go on to succeed at high-levels in both private and public kindergarten settings, many excelling in Gifted and Talented programs. We are thrilled to be part of their early educational careers!
Purposeful play, when used correctly, is scientifically proven to translate into a fun, beneficial way to achieve academic success if an enrichment program is equipped with qualified learning through play professionals to implement it. The teachers at The Kids Club SI are known as the local innovators of using play as a powerful catalyst for early learning.
Here is a glimpse into what The Kids Club SI's "First Time Alone" and "On My Own" kids learn. Children love the hands-on, interactive lesson plans and go on to achieve high-level success in public and private schools!
Every school day for over 30 years, The Kids Club SI's well-rounded enrichment programs have guided children in gaining independence and developing a genuine love of learning. By focusing on the needs of the whole child, our educators use these critical learning years to empower each one to build their own unique foundation that leads towards a lifetime of educational success and happiness.
Our "First Time Alone" and "On My Own" Programs in Action
FAQs About Our Readiness Enrichment Classes at The Kids Club SI
Here are some of the most commonly asked questions about our Readiness Enrichment programs. If you have any further questions, please do not hestitate to contact us. We understand how big of a decision this is for parents and are here to make you feel confident in sending your precious little one off into "big kid school" when the time is right.
We operate as a private readiness enrichment program and are not part of NYC's UPK program. This allows us to be innovative and non-restrictive in what we teach and how we teach our curriculum. Our programs have been wildly successful in preparing young children for future schooling opportunities because of this. Our Kids Club Alumni excel at high levels in private and public school, many being part of the Gifted and Talented program.
Yes! We purposefully ensure that our programs have adequate staffing in order to give personalized attention to every student. 
Yes! We fully understand how daunting it can be to send a child to a school with an allergy and worry about their health and safety. Parents have felt extremely comfortable trusting their children with us because we take extensive measures to prevent any attacks, have protocols in place in case there is an onset of an attack and also educate our entire class in an age-appropriate way about allergies to best provide support. We are a nut-free environment.