Our Enriched Classes and Programming
by Age and Developmental Milestone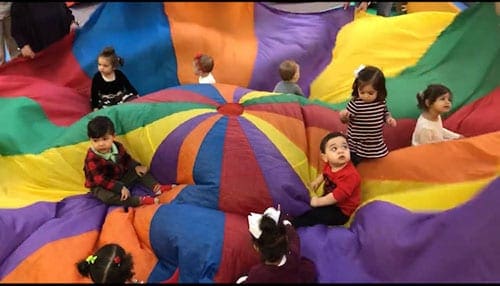 All of our classes focus on childhood development by age and developmental milestone. Learn more about our play, music and art classes and our preschool programs.
KC Stage 1:
Infants and Babies Ages: Birth - 6 Months
This class is specially designed for pre-mobile infants and serves as a gentle introduction to our indoor play equipment, including parachute play, while giving the right age-appropriate stimulation to your baby. Our teacher led discussion provides you with valuable information and a network of support during these early months of your baby's life.
KC Stage 2:
Sitters and Crawlers  Ages: 6 - 12 Months
This class is specially designed for babies who are confident sitters and beginning crawlers. We focus on equipment activities designed to develop upper body strength, stability and coordination on a weekly rotation. Parent sharing, parachute time, bubbles and songs add to the fun and learning!
KC Stage 3:
Cruisers and Early Walkers                   Ages: 10 - 16 Months
This class is specially designed for babies and toddlers who are "cruising" (walking while holding onto objects) and those just learning how to walk. We emphasize pre-walking and early walking skills using equipment activities designed to enhance balance, strength, confident walking, coordination and lots of socialization. We work with ramps, stairs, climbers and sides to promote healthy growth.
KC Stage 4:
Walkers, Runners and Climbers Ages: 16 - 24 Months
This class is specially designed for confident walkers, runners and climbers. We focus on learning concepts like up and down, big and little, in and out which encourages their exploration and helps build motor skills. Indoor play equipment activities, parachute play and songs provide a balance of play, physical challenges, language enrichment and peer interaction with other toddlers.
KC Stage 5:
Active Imagination, Adventurers and Creative Explorers                                 Ages:  24 - 36 Months
This class focuses on learning through imaginative themes that come to life as you and your chlid explore through adventure stories, movements, puppetry and songs.
KC Stage 6:
Sports, Exercise, Healthy Kids and Yoga Fun                                              Ages: 36 - 48 Months
This class focuses on non-competitive pre-sports and exercise skills to promote healthy activity. We work on skills like throwing, catching, kicking and tumbling that are combined with creative movements and props. We introduce your little ones to sports like soccer, baseball, basketball and even golf! We start each class by stretching and exercising. It is a very active class!
KC Music 1:
Foundations Ages: 3 - 16 Months
Musical learning begins here. Kids Club Music 1 offers a sensory rich and caring environment where infants and babies and their caregivers provide the opportunity to strengthen your connection with your child through joyful music making experiences.
KC Music 2:
Discovery   Ages: 12 - 24 Months
Kids Club Music 2 classes encourage toddlers to discover their own ideas and explore. Each class offers plenty of fun through singing, dancing and instrument play. These kids explore their new movement and language skills with a sense of security, comfort and confidence.
KC Music 3:
CreativityAges: 24 - 42 Months
Kids Club Music 3 classes engage children's love of music and activate their imaginations. A wide range of learning opportunities boosts language skills, confidence, independence, social skills and self-control.
KC Messy Art 1:
Foundations Ages: 3 - 16 Months
Art learning starts here. Kids Club Messy Art 1 offers a wonderful interactive way to learn, explore and engage your babies. We are sure to engage most senses in each class. Please remember to notify us of any allergies as we will be exploring through different foods like gelatin and food coloring as well with things like shaving cream.
KC Music 2:
Discovery Ages: 12 - 24 Months
Kids Club Art 2 classes give children a fun, positive means of self-expression and an enhanced creative spirit. Participate with your curious toddler as they explore arts and crafts through many different sensory-tactile experiences, such as sculpting, painting, coloring, singing, movement activities and story time. Join us to see your child grow in so many ways.
KC Music 3:
CreativityAges: 24 - 42 Months
Kids Club Art 3 classes engage children's love of art and unleash their imaginations. In a world of hands-on learning discovery, watch your child's creativity blossom and motor skills soar with each new experience at our art class. During our class, your child will paint life-size pictures, create a variety of crafts, play dress-up, enjoy story time and movement activities. Come experience the joy of creativity as your child's shapes and colors evolve into masterpieces.
Preschool Readiness and Enrichment Classes
KC "First Time Alone" ClassAges: 2 - 3 years old
Our interactive Kids Club "First Time Alone" curriculum is an independent participation program that meets twice times weekly and is designed to nourish the cognitive, social, emotional and physical development of children aged 2 - 3 year olds. This is a 3 hour class without a parent present.
KC "On My Own" Class Ages: 3 - 5 years old
Our Kids Club "On My Own" 3 to 5 year old program is a 3 days per week, three hour per day learning experience without parent. The innovative curriculum of this program employs interactive literacy and thematic learning experiences that strengthen social, intellectual and physical skills in every child through language, math, science, social studies, gym, dance and art.