Theme Party
KIDS-O-WEEN Costume Party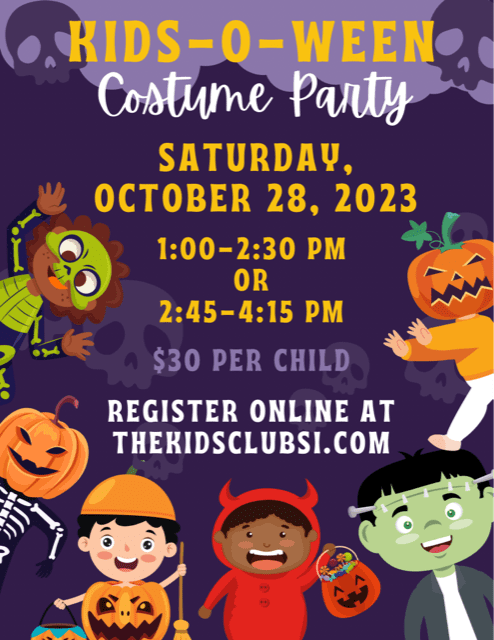 EVENT DESCRIPTION
KIDS-O-WEEN COSTUME PARTY
WHEN
October 28, 2023    1:00 - 2:30 PM  or  2:45 - 4:15 PM
WHERE
The Kids Club SI at Riviera Plaza
3925 Amboy Road
Staten Island, NY 10306
AGES
1 month to 6 years old
ATTENDANCE
An adult must stay present
PRICE      
$30 per child (Adults are FREE)
Children's Special Events
on Staten Island
Looking for some good quality family fun with your little one? At The Kids Club SI, it's imperative that we let all parents know that children learn by playing, moving and doing - and that even includes when they're having the time of their lives at our over-the-top, wonderfully-crafted special events.
We transform our beautiful learning space to fit a specific theme while your child can socialize, have fun, learn to participate in group settings and discover new skills. Our special events are designed to specifically nurture your child's creativity and promote a positive, shared learning environment. Our parties are intentionally mixed-age groups together for this reason.
Imagination awaits. Is your family ready?