Spring Fling Party
Sat 4/1 & Sun 4/2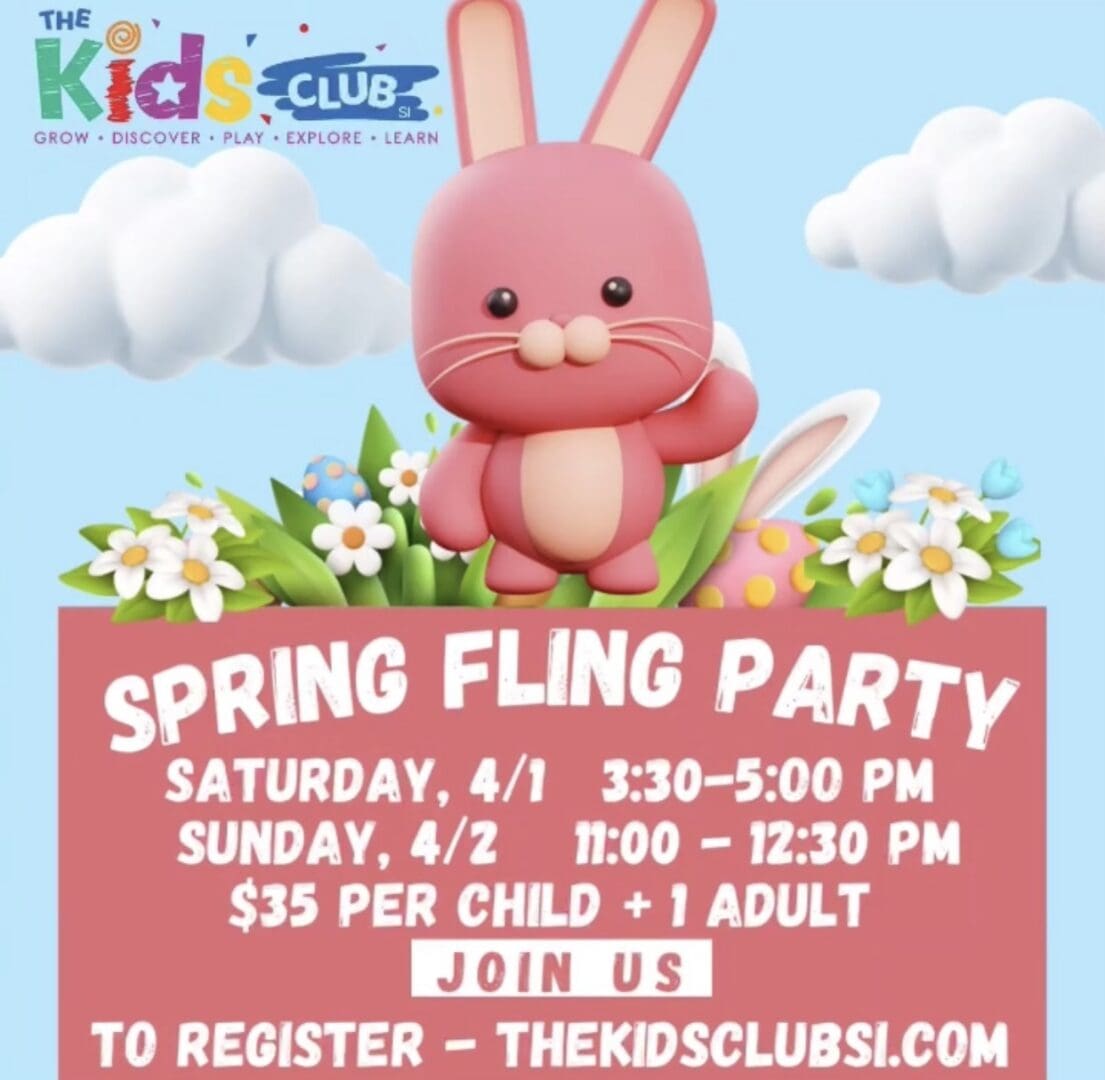 EVENT DESCRIPTION
Celebrate SPRING at THE KIDS CLUB!
Children and parents will enjoy activities like climbing our tree house, a ladybug ride, exploring our bird's nest, mowing the grass, dancing like a "Rockin' Robin", jumping like frogs and pretending to be a growing flower. Enjoy favorites like a freeze dance, a spring butterfly obstacle course and parachute time!
We will have a "HOP-HOP-HOPPING" fun class with PIZZA and lots of surprises!
*SPECIAL VISIT FROM THE EASTER BUNNY*
Make sure to bring your camera to capture the special moment!
WHEN
Saturday, Apr 1 from 3:30–5pm
Sunday, Apr 2 from 11am–12:30pm
WHERE
The Kids Club SI at Riviera Plaza
3925 Amboy Rd
Staten Island, NY 10306
AGES
1 month to 6 years old
ATTENDANCE
An adult must stay present
PRICE
$35
Children's Special Events
on Staten Island
Looking for some good quality family fun with your little one? At The Kids Club SI, it's imperative that we let all parents know that children learn by playing, moving and doing - and that even includes when they're having the time of their lives at our over-the-top, wonderfully-crafted special events.
We transform our beautiful learning space to fit a specific theme while your child can socialize, have fun, learn to participate in group settings and discover new skills. Our special events are designed to specifically nurture your child's creativity and promote a positive, shared learning environment. Our parties are intentionally mixed-age groups together for this reason.
Imagination awaits. Is your family ready?
Exclusive Member Benefit: If you are a member of The Kids Club SI, you receive discounted tickets to select special events.